Organic Spirulina Powder 16oz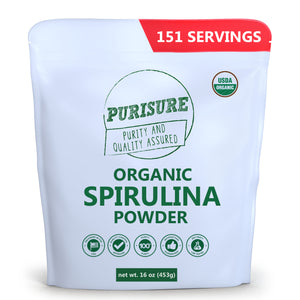 Nutritional Powerhouse
As a well-known source of vegan protein, spirulina is ​packed with significant amounts of vitamins and minerals. At Purisure, we make sure that the entire production process does not destroy the nutritional value of this blue green algae to deliver the best quality product. Our safely harvested natural algae are meticulously handled from culture to dehydration before it's made into powder.
A tablespoon of this spirulina organic powder provides more than 4 grams of protein, 8 milligrams of calcium, 2 milligrams of iron, 95 milligrams of potassium, 8 milligrams of phosphorus, and more. It also contains thiamin, riboflavin, niacin, and folate. Each tablespoon of spirulina only contains 20 calories. Adding it to your regular diet can help you stay nourished and healthy. For better mental clarity and focus, include Purisure CDP Choline Powder in your daily supplement.
The Benefits of Purisure Spirulina Powder
* supports blood circulation and gut health
* keeps blood pressure and sugar levels under control
* boosts metabolism that aids in weight loss
* lowers bad cholesterol while raising good cholesterol
* helps the brain to be more resistant to aging and fatigue
Ingredient
Spirulina Powder
Suggested Use
Take 1.5 grams or ½ teaspoon twice daily, preferably with a meal. Can be added to shakes, lattes, smoothies, energy balls, and sprinkled on salads, soups and favorite meals.
151 Servings Per Container